Every New Year's, I write one of those year-in-review posts. One of the questions is , "What did you do this year that you'd never done before?" This year the list will be a mile long thanks to Africa and all these extreme camping trips I've been going on. I've lived on the west coast for seven years now, and had never been to Oregon until last weekend.
In a strange twist of fate, all of the girls who were going on the trip had to work on Friday and none of the guys did. What kind of world are living in where the girls have to work and the guys don't? We decided it was our Mennonite destiny to split up into a boy car and a girl car. Also no eye contact between the two genders, we'd have to walk on separate sidewalks and the girls would all have to wear long skirts. The boy car left early on Friday and the girl's car was scheduled to leave at 3:30 sharp. Unfortunately by the time we packed up my car and hit the road it was nearly 4pm. We were all bracing ourselves for at least a 2 hour border wait, considering it was rush hour on the Friday of a long weekend. We drove through Richmond and the first of the border wait signs said it was only a 5 minute wait at Peace Arch. "What!? NO WAY! It must be wrong!" we all cried. But sure enough we got to the lineup and there were only 5 cars in front of us. Never in all my days have I had that short of a border wait. It was a Labour Day Miracle.
We arrived at our hotel in Portland at 10:30 that night. All of us were totally bagged from working all day and then driving for 6 hours, especially me. I'd been up since 5:30 in the morning and was so tired by the time we reached the city that I nearly turned the wrong way down a one way street. I have never heard such high pitched, panicked squeals in my entire life. Don't worry you guys, crisis was averted at the last second. We checked into our hotel room and immediately changed into our pajamas and went right to bed. We didn't even go say hi to the guys, who had waited up and chilled a bottle of wine for us…oops.
We spent the day in Portland on Saturday, and it was not enough time! It's hard to see much of a city in just one day, because it takes that long just to get your bearings. But we made it to Powell's books, which was the major thing I wanted to see. Everyone enjoyed it (much to my surprise) and we all walked away with at least three books each. The girls poked around in a few vintage shops and wandered through some of the markets. Tiff and I got to try a flight of craft beer. I need to go back and spend a whole weekend there, or longer.
Other Portland highlights:
-We accidentally wandered through a protest march.
-There was an International Festival of Praise going on and they sang Shout to the Lord for approximately 20 minutes.
-We wandered past a blues duo, and one of the guys was playing bass and drums at the same time. He looked like Santa Claus.
We ended up leaving Portland around 6pm. The guys had gone ahead of us to the coast to get all the groceries and set up camp. Seriously, they took such good care of us all weekend, it was the best. By the time we arrived everything was set up and they had already made dinner. Here is one thing you need to know about these guys: they don't believe in campgrounds. Even though we were car camping, we had to park on some back road and scale a small hill to get to our riverbed campsite. It really was a small hill, I promise. But it was dark and all we had was Colin's headlamp and our iPhones for light. Also, I was a tiny bit nervous because at some point between when we left him in Portland and when we met up with him on the side of the road Colin had managed to rip his shorts open from his hip all the way down to his knee. So much for our menno dress code. Jenn had brought her rollie suitcase and Tiff had a huge foam mattress and it was hilarious trying to climb down with all of our stuff in the dark. But we made it, with much giggling. And we got to camp right next to a river.
Sunday we spent most of the day at the beach. It was gorgeous weather, 30+ degrees, and I got an impressive sunburn on my face and the backs of my knees, which peeled mid-way through last week. Not cute. The water was pretty cold but we went in and attempted to body surf for at least five minutes. I wish we had waves like that up here, we don't and it's all the Island's fault. After we ate lunch, we all split up to go for walks or read books by ourselves. It was a real Introverts Day at the Beach.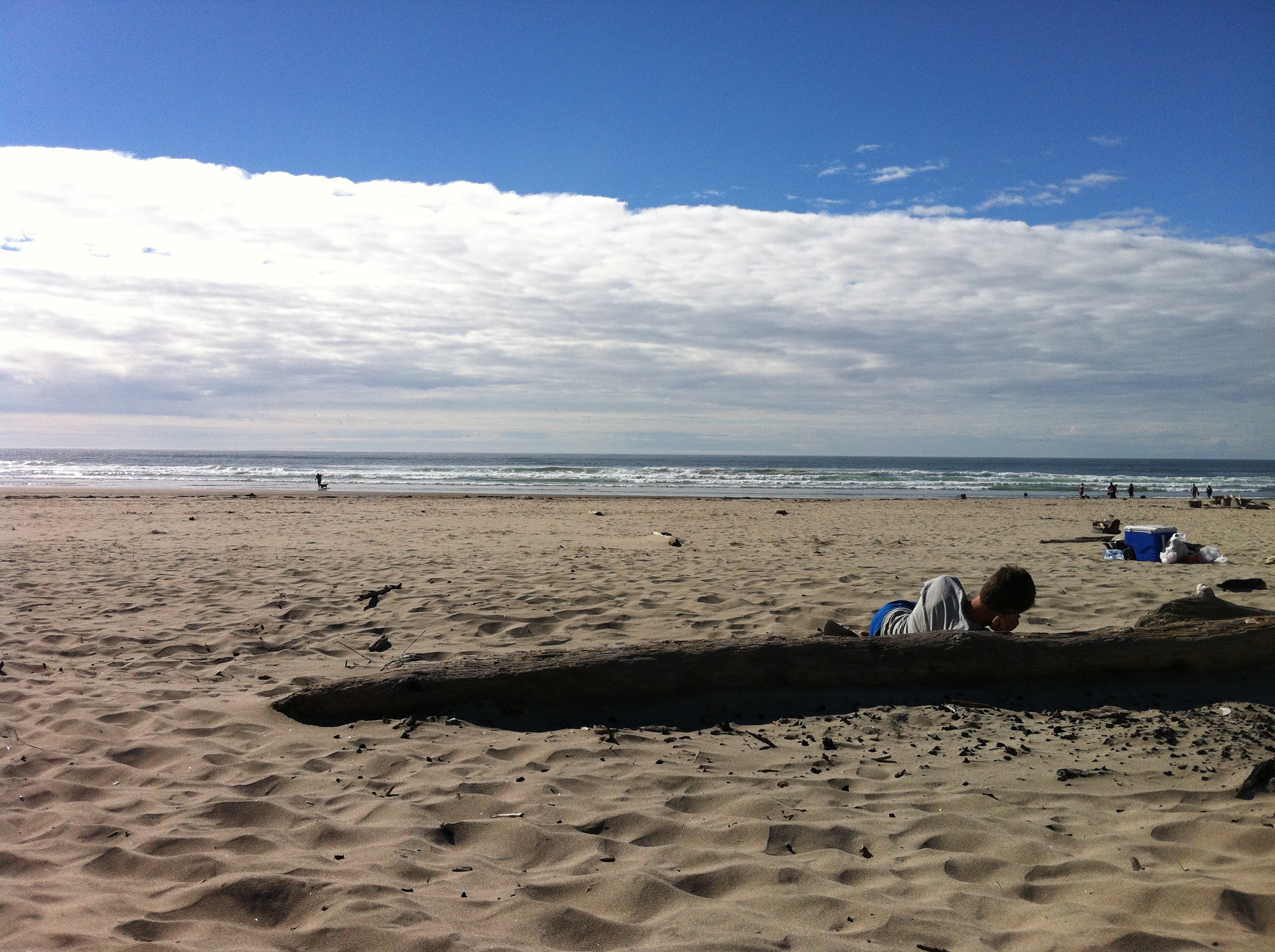 At some point in the afternoon, a few of us had re-convened and were lounging about on the sand. Zach returned from his walk, plopped down in the sand and announced, "Guyth, I went to finithsh my beer and a wathp had crawled inthide and it thung me on the tongue." Because we are an incredibly caring and sympathetic bunch, our first reaction was to explode with laughter. And then we kept trying to make him talk. "Tell us a Cop story!!" He did get some ice eventually, but not until our stomachs were sore from laughing.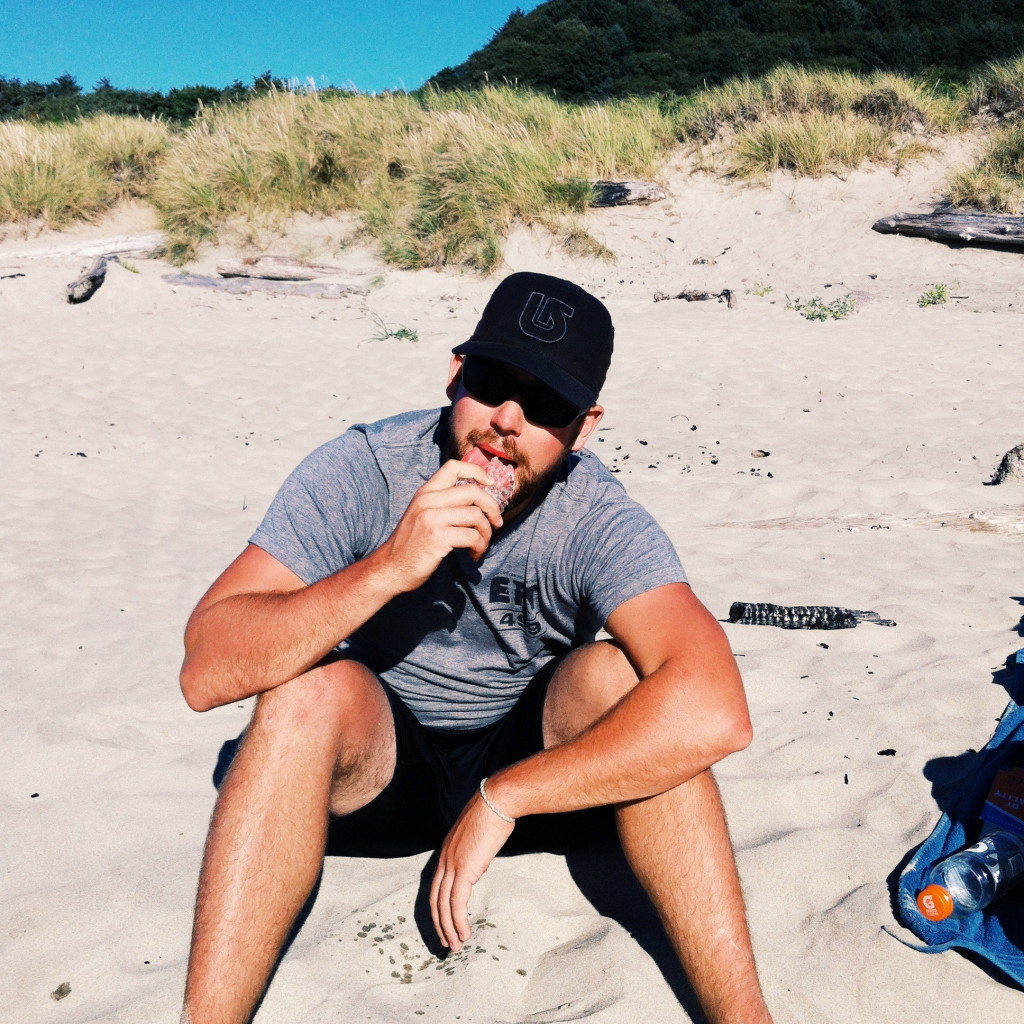 Somehow, the guys convinced us that it would be a good idea to sleep on the beach that night. Josh insisted that it wouldn't rain (he was wrong). We packed up our campsite and brought only our sleeping mats and bags to the beach. Earlier in the day we had scouted out a beach fort to sleep in, so we set up our beds inside it just after sunset. You guys, I am so thankful that I didn't think about bugs/mice/other creatures beforehand. There were totally mice in that beach fort. Don't tell my mother. I was so exhausted though and toasty warm in my sleeping bag that I slept right through the whole night. And I think the mice kept to themselves. Despite getting rained on and a little (a lot) sandy, sleeping on the beach was totally worth it. We got to see the most beautiful sunset and have an amazing beach fire. Campfire chats are the absolute best. And we had our very own white noise wave machine.
In the morning the guys woke up giggling hysterically because they had somehow managed to convince the girl who hates the outdoors and the girl who packs a rollie suitcase for the woods to sleep on the beach in the rain. They did get up early and drive into town and picked up coffee for us, which was pretty sweet of them. So I guess we can forgive them, this once. As we were drinking our coffee we decided there was no way we were going to try and cook breakfast on the beach so we went to this little hole in the wall diner instead. It had a toilet paper holder made out of horsehoes and a wall full of personal coffee mugs for the locals. Our last stop on the way out of town was at Cannon Beach. Where we took this photo, for our least Mennonite moment of the entire trip. Don't you want to watch Goonies now?
It was such a good weekend. So many laughs and memories made. A great way to end the summer. This summer has been one for the books.