When I was in Grade 6 I was determined to learn "Let it Be" on the piano. I practiced that song harder than anything I ever had before or since. Ok, I probably put more time into my second year scale juries at GMac but not by much. I stretched my eleven year old fingers to reach the octaves in the left hand. I played it over and over until I got it perfect. That was the year that I remember hearing the Beatles for the first time. It was the first time I realized that people could play music in a band, writing their own songs and not just reading notes off a page. For the first time I saw that the end goal of piano lessons didn't have to be playing The Happy Farmer better than all the other kids. I could teach my fingers to play anything! So I thought—I had not heard of Brahms or Debussy and their giant hands yet.
I've loved the Beatles and Sir Paul McCartney in particular ever since I was eleven. As I got older I learned more of their catalogue and the impact they had on all music that came after them. Despite being memorizationally challenged, I learned words to nearly all of their songs. These past few months in songwriting class I've gone back over some of their albums picking apart phrasing, melody, rhyme schemes and literary devices trying to see why their songs work so well.
Never in one million years did I think I would get a chance to see Paul McCartney live.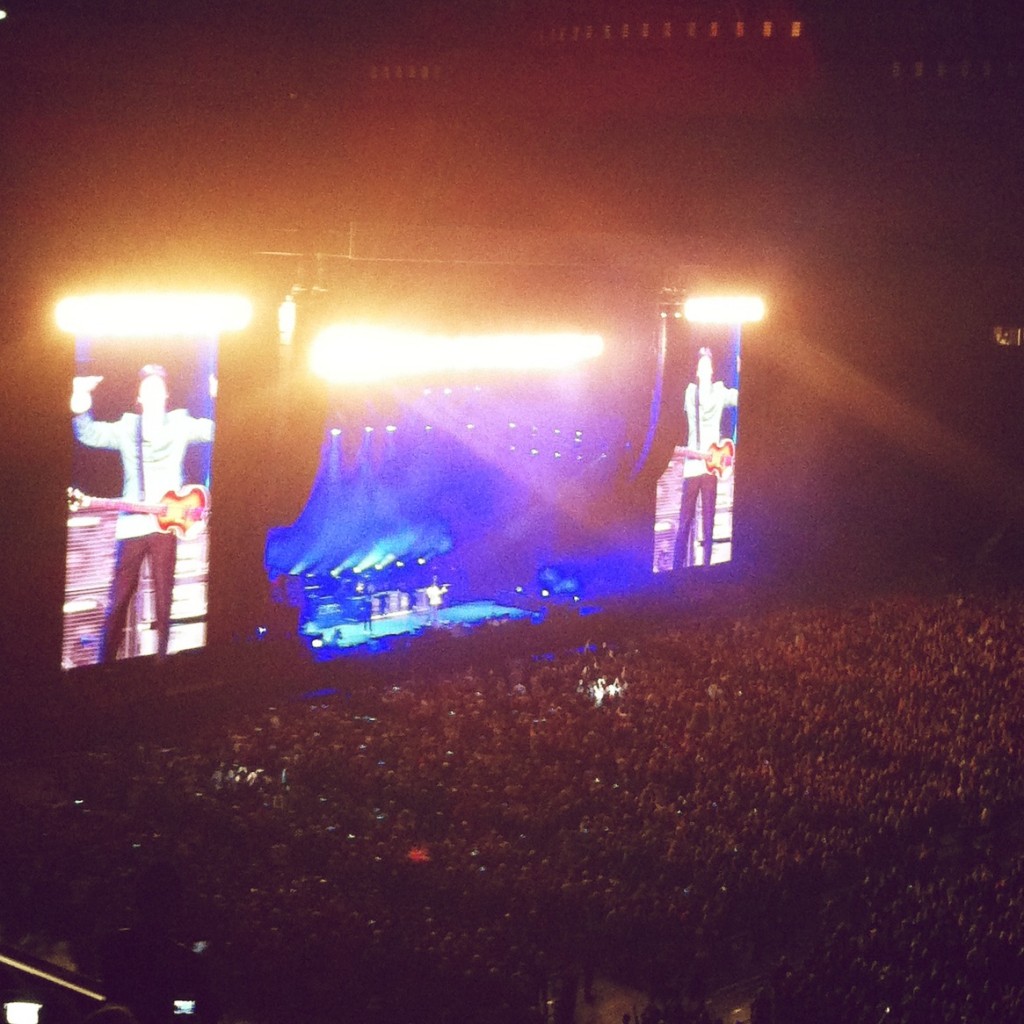 If I'm being truthful I was a little nervous leading up to the concert last night. What if he was terrible? What if he didn't play any Beatles songs? What if I was disappointed and The Beatles were ruined for me forever? I tried to keep my expectations low. And Sir Paul blew them out of the water.
It was a magical show, the likes of which I will probably never see again. He stuck to mostly Beatles and Wings classics, and only really played one song off his new album. He played for three hours with no breaks and was totally engaging the entire time. He had a minimal band with him – two guitar players, a keyboardist and a drummer—and the sound seemed as full as if he'd had an entire orchestra. He paid tributes to John and George, including a ukulele version of "Something". I nearly lost my mind when he started playing "All My Loving" and totally cried when he sang "Hey Jude".
I loved every minute of it. Especially all the stories he told in between songs, and how he seemed to be having so.much.fun. It was a master class in what a performer should be, probably the best concert I've ever been to. Now, I say that with the caveat that I have a major emotional attachment to the Beatles and Paul McCartney in general so I am definitely biased. But really truly, it was so special to see my favorite songwriter and musical hero in the flesh and have him be just as wonderful as I thought.
Footnote: Can we also pause to appreciate this amazing cover that Fiona Apple did of 'Let Me Roll It' on Jimmy Fallon a few months ago? I think this is my favorite Paul McCartney and the Wings song and she knocked it out of the park. He also played this song, awesome.